Relieve Your Dog's Itchy Skin Naturally
Relief for Them,
Peace of Mind for You
Does your dog deal with ongoing skin issues such as allergies, hot spots, or redness?
We developed our Skin & Coat System to combat allergens & environmental stressors that can harm you dog by treating them from the inside out. From redness & inflammation to hot spots, rashes, and bug bites, the Skin & Coat System is designed to address it all. This three-part systems provides ultimate healing relief with natural, worry-free ingredients.


Ditch your dog's itch and get you paws on the Skin & Coat System instead. Your dog will finally find natural relief for those painful recurring skin irritations!

Skin & Coat System is designed for natural healing & relief
1. Nourish With Skin & Coat Supplement and Wild Alaskan Salmon Oil
Healing the skin and obtaining a shiny coat starts with what we feed our dogs. Skin & Coat Supplement is packed with the essential vitamins and omega fatty acids designed to promote a soft, healthy coat and supple skin. This daily supplement contains a robust blend of nutrients that also support your dog's immune system, brain development, and joint health. Additionally, Wild Alaskan Salmon Oil is a pure and effective source of Omega 3 that bolsters the immune system and promotes healthy skin & coat by supplying essential nutrients. Whether you supplement Skin & Coat Chews or Salmon Oil, your dog will get receive the nutrients he needs for a shiny coat and healthy skin.
2. Spot Treat With Skin Soother
Open cuts and sores on your dog's skin often result from his constant scratching. Skin Soother is a natural healing balm that provides instantaneous relief for your dog as it soothes and heals his dry, itchy skin. Antibacterial, anti-fungal, and anti-inflammatory, Skin Soother is a go-to remedy for itchy skin!
3. Cleanse With Itchy Dog Shampoo
With regular use of Itchy Dog Shampoo, bath time will once again be a rewarding time to bond with your dog while restoring his skin with the healing properties of carefully selected essential oils. Removing irritants from his fur and soothing his itchy skin will make both you and your dog happy!

Natural, High-Quality Ingredients
Your dog deserves the best. That's why our products
are vet-formulated & packed with natural, safe ingredients
that are free of toxins, fillers, and dyes.
Rich In Omega Fatty Acids
Wild Alaskan Salmon Oil and Skin & Coat Supplement are packed with beneficial vitamins and nutrients essential for healthy skin and glossy coats. Fatty acids, DHA, EPA, and biotin to help dogs look and feel great in their own skin!
Skin Soother balm is powered by plants to heal, soothe, and nourish even the stubborn skin conditions. We use only the highest quality ingredients to create a safe, powerful healing treatment a plethora of ailments and irritations.
Deep Cleaning & Restorative
Itchy Dog Shampoo is free of sulfates, parabens, alcohols, toxins, and artificial fragrances. Its natural ingredients & carefully selected blend of essential oils aide in overall skin health and help to balance, heal, and soothe red, itchy, and irritated skin.
What Our Customers Are Saying
Natural Dog Company ROCKS!
"My husky mix had HORRIBLE skin allergies that turned into a fungal/bacterial infection. The first two pictures were taken about 2 years ago after we had to shave her beautiful fur down to the skin so she could heal. We originally had to bathe her with medicated prescription shampoo from the vet to get the infection under control. During this time I saw an ad for Natural Dog Company products so I purchased the Itchy Dog shampoo, Skin & Coat supplements, and the Spruce Up Pup shampoo bar. I'm not gonna lie, it took about a month before I could see any results, but slowly I noticed she wasn't itching as much and her fur was starting to grow back in thick and full like it was before. About a month ago I purchased the Alaskan Salmon Oil and started adding it to her food twice a day. Well, the last picture was taken about a week ago and as you can see, her fur is back to it's full and fluffy self. So happy I found these products, and I'm even more happy that they are all naturally derived! Thank you Natural Dog Company!"
"My 80lb Lab Pit mix has veryyy sensitive skin. About a month after we adopted him he got Giardia and after that lost an insane amount of hair, and also formed these skin-colored bumps all over his legs. The vet wasn't sure what these were and said to just let it pass and give him fish oil pills, but after 3 months it only got worse. After 1 month of using this supplement, I saw an amazing improvement, and now after two months his skin is completely healed and all his bald patches have grown back. The pictures speak for themselves. Thank you Natural Dog Company for helping my pup."
"I cannot recommend this product enough. My pit bull has some of the worst allergies I've ever dealt with in a dog. Her skin is so sensitive. She was losing all the fur on her back, and getting weird bumps and sores. After just one stick of the skin soother her back seems moisturized, the bumps have pretty much gone away, and she is starting to get fur back. Definitely going to be getting another stick."
"My poor white fur pup has really sensitive skin and bad allergies. We've tried counties sprays, creams, shampoos, vitamins, foods... Nothing really worked until skin soother. Within 3 days her skin is almost fully healed and she's not miserable and scratching get skin open. Will definitely order more as well as try the shampoo. We also used the vitamins along with the shin soother stick. So grateful to finally have found something that works!"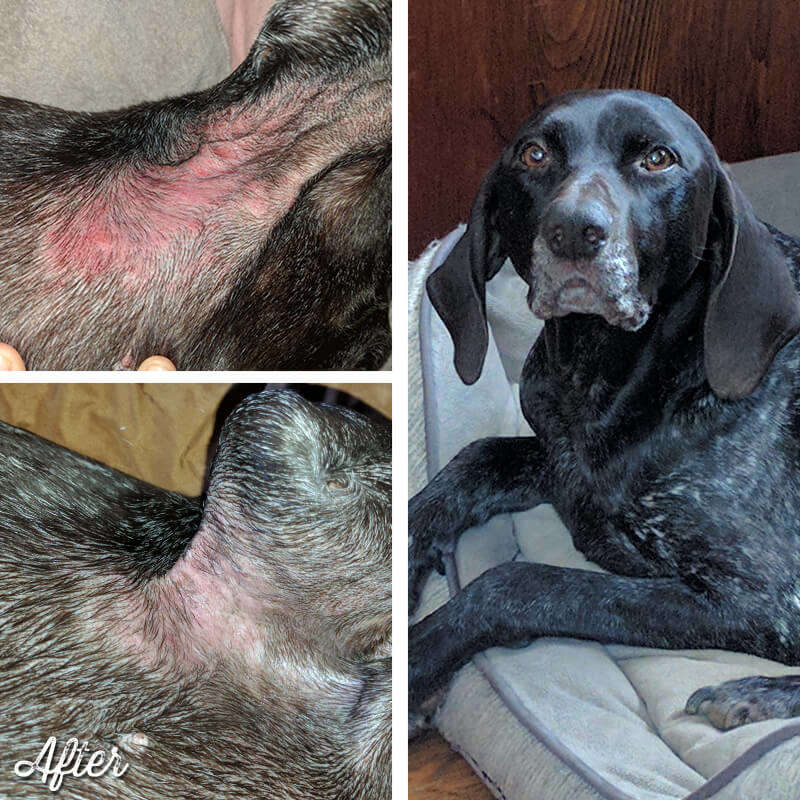 Amazed at how fast it worked!
"Whiney had been suffering from this awful rash in her armpit. We tried coconut oil and some neosporin but nothing seemed to work and she was always itching. She's not a young dog, so trying to scratch her front armpit was causing her a lot of hip pain and stiffness, we knew we had to find something. I was so happy to find Skin Soother and simply AMAZED at how fast it worked! You could definitely tell it was soothing the itch and it healed her month long rash in just 3 days!! I am blown away...thank you so much"
Stopped Licking Within the First Day!
"I am in utter shock! Odin suffers from environmental allergies and since we have moved to Washington his paws have gotten really bad probably from the constant wet ground here. I noticed he had been licking them and decided to check them out and they were bad! Missing hair, really red and inflamed, and oozing. The worst I had ever seen them get. I had seen before and after pictures of dogs with inflamed paws, so I figured I would give the Skin Soother a shot (next step was to a vet). I noticed he stopped licking within the first day. So I kept at it. Applying it at least 3-4 times a day. It's been just about three weeks since we started using it and figured I would do another exam and was shocked to see the hair had almost grown back completely and no redness or ooziness. This stuff is amazing and saved us a costly trip to the vet!"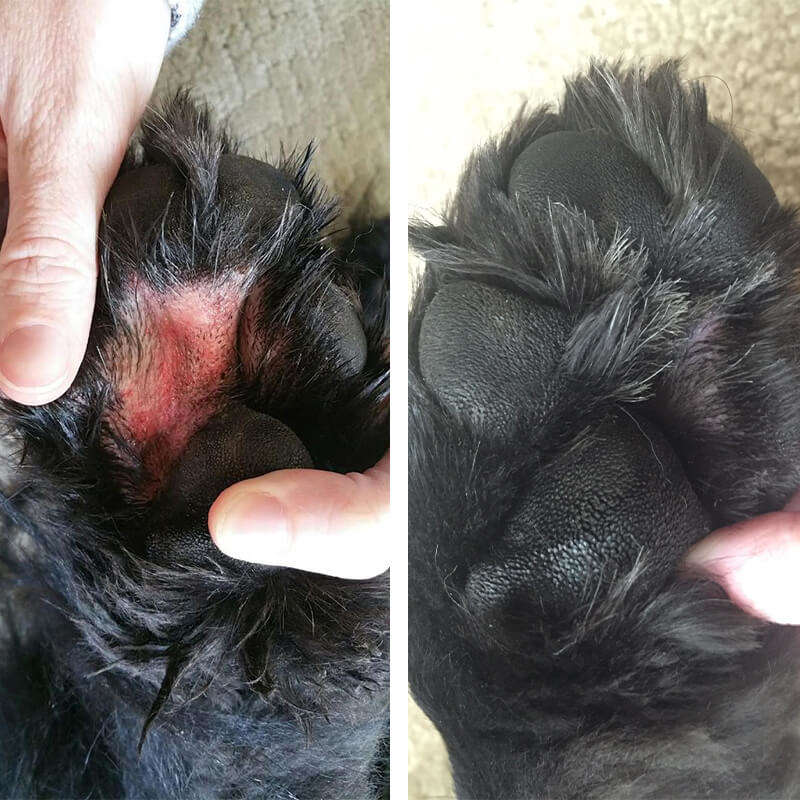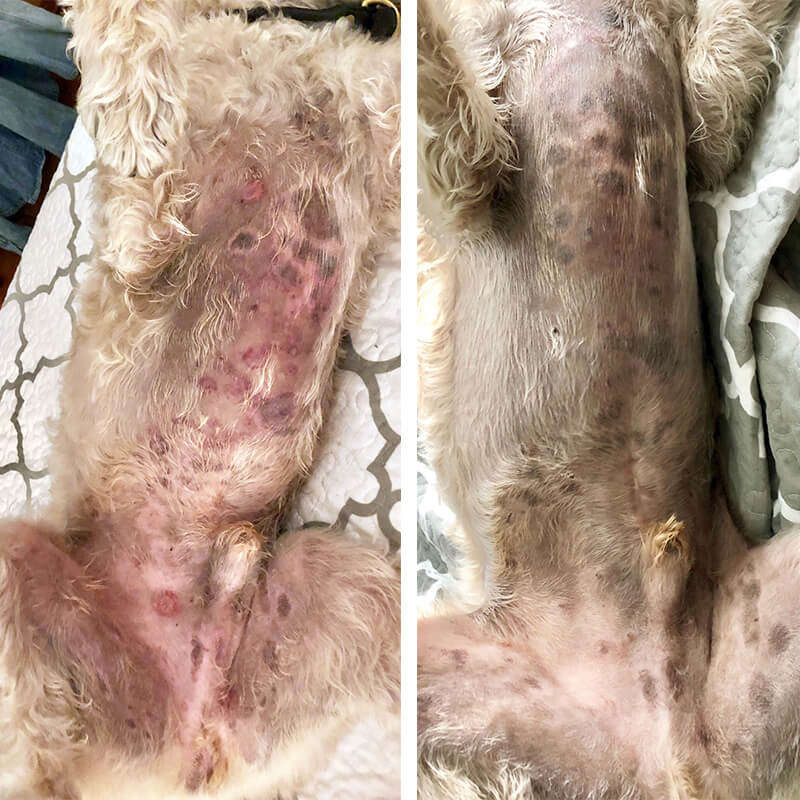 "Although my Wheaten, Finnegan, has always been on flea medicine, I learned of his allergy to flea bites this winter. His skin gets very inflamed and the bite area turns into a large itchy scab. It also causes seborrhea which makes him smelly. After the first use of the Skin Soother stick, the itching went away and his skin started to heal! I can tell he feels much more comfortable now and I love the natural products used. These pictures are 7 days apart. Skin Soother has been a game changer and Finnegan will be a lifetime customer!"
"My dog his a Mastiff/Pitbull mix was having skin problems. I've tried everything switching his food and I stop by him treats because I wasn't sure what was causing his skin to break out. I didn't want to keep paying the vet. One day I was doing some research and came across this company. I read the reviews and decided to give it a shot. I'm so glad I did. Within a couple weeks my dog skin was looking better already. His coat is so soft and shiny. Happy Customer"
Skin & Coat Chews & Wild Alaskan Salmon Oil
Supplement Daily For Best Results
Nutrient-dense and rich in omega fatty acids, Skin & Coat supplement promotes healthy skin and a shiny coat from the inside out. As an added bonus, it also supports your pup's immune system, cognitive development, and joint health! Our tasty and nutrient-dense Wild Alaskan Salmon Oil also supports immune system, healthy joints, and every day health. Nourish your dog's skin & coat when you add salmon oil to your dog's regular diet.
Using Both Skin & Coat Chews & Wild Alaskan Salmon Oil Topper
Many dog owners enjoy giving their dog the variety mix of both oil topper and chew. When using both throughout the day, just divide the daily dose for each in half for each. This way you'll provide 100% of the recommended daily supplement across both applications.


Recommended Daily Dosage
For dogs up to 25 lbs = 1 chew or 1 pump oil
For dogs 26-75 lbs = 2 chews or 2 pumps oil
For dogs over 75 lbs = 3 chews or 3 pumps oil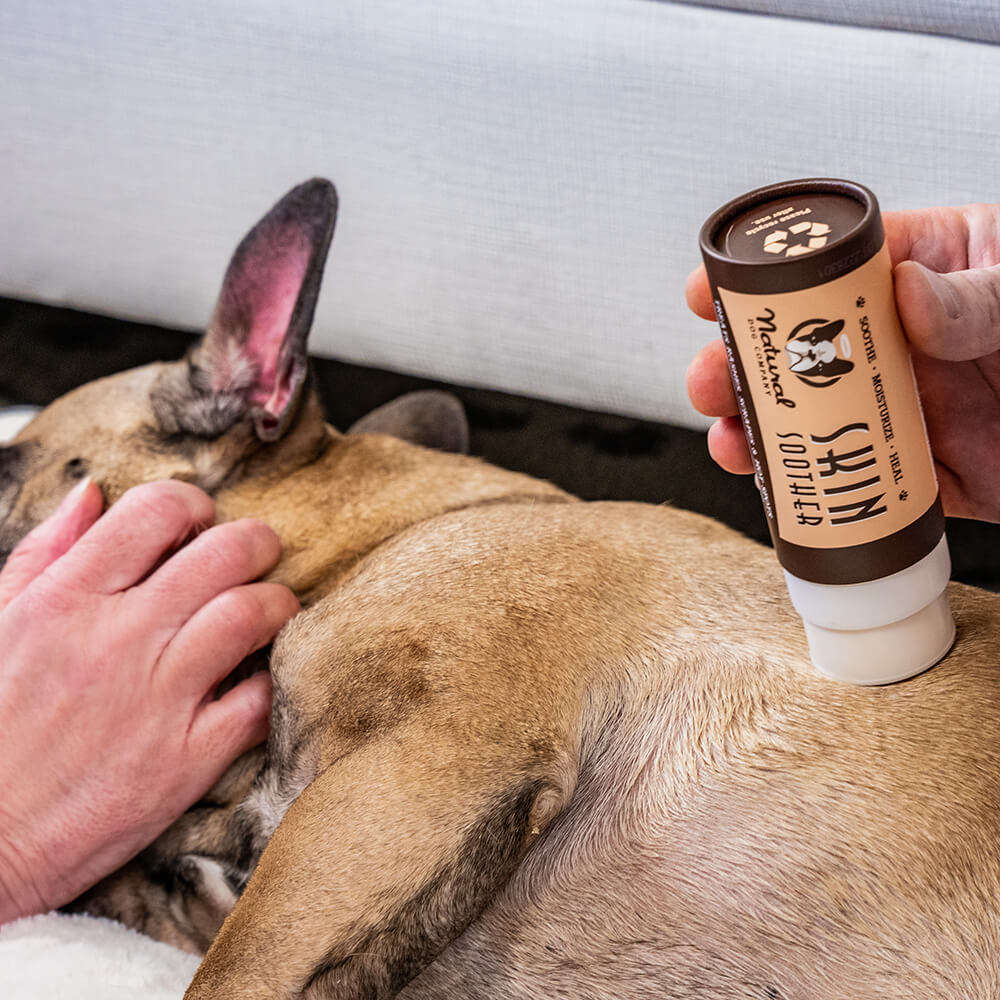 Skin Soother Healing Balm
Treat Red Skin, Hot Spots, and Sores

Skin Soother is the go-to remedy for healing and soothing dry, itchy skin and providing quick relief for your pup. This 100% organic, plant-based healing balm nourishes and soothes even the most stubborn skin conditions.

A First-Aid Kit Essential
Because of its antibacterial, anti fungal, and anti-inflammatory properties, Skin Soother is a first-aid kit essential. Keep Skin Soother on hand to treat skin irritations on-demand to provide relief to your precious pup!

Distract, apply, reward!
With your dog's favorite toy or treat on hand, clean up any excess dirt or debris evident around the irritated area. Apply a generous amount of Skin Soother covering the area completely. Allow the area to dry and follow up with a treat or play time for a positive reward. Repeat one to three times daily. Consistent and frequent application to open wounds is crucial to protect against infections and harmful bacteria. Decrease application as the area improves.
Cleansing Relief For Recurring Irritations
Itchy Dog Shampoo is the perfect way to clean and heal all pups, especially if they experience itchy skin and redness caused by allergens, bug bites, and other irritants.
Worry-Free Ingredients
Suitable for all dogs, Itchy Dog Shampoo boasts a hypoallergenic formula that is perfect for washing away surface-level irritants while providing soothing relief to your pup's itchy skin. It is free of sulfates, parabens, alcohol, and toxins. Itchy Dog Shampoo contains 100% natural, pet-safe ingredients that work together to give your pup a clean coat and healthy, healed skin.

Bathe Your Dog After Exposure To Irritants
Shake well. Start with a dime-sized amount of shampoo and lather into your dog's wet fur. Add more shampoo as needed. Rinse thoroughly before drying. Bathe your pup after exposure to irritants such as grass, dust, or bugs, or when they are itching more than normal.